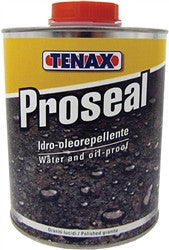 Proseal Ultra Premium
Proseal Ultra Premium Grade Stone Impregnator Sealer for Granite, Marble, Engineered Stone, Quartzite, Grout as well as high porosity materials such as marble, travertine, limestone.
Use to protect stone against practically all potential kitchen stain causing items: coffee, wine, oil, peanut butter, mustard, ketchup, soda, etc.
Works well with polished, honed, brushed, matte, finishes.
Outstanding for Indoor and outdoor applications, Proseal is recommended for stone that will be exposed to wet conditions such as showers, patios, outside bars, pool copings, pavers, etc.
Proseal does not change the natural colors of the stone and allows the stone to breathe.

DIRECTIONS: This product must be evenly applied on a clean, dry surface. Spread Tenax Proseal evenly using a clean sponge or cloth. Apply until surface no longer absorbs product. Immediately clean/buff with a clean dry cloth. Excess product may create a superficial glossy and sticky film so it is important to remove excess immediately after application. After waiting 10-15 minutes repeat procedure. If used on floors wait 24 hours before walking on surface.

1 liter of Proseal will treat apprx. 215-323 square feet of stone depending on the porosity of the stone.

IMPORTANT: When using for the first time we suggest testing on a small hidden area first.