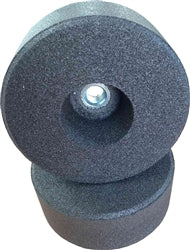 Silicon Carbide Cup Wheels
Use with Granite
Use with Marble
Use Wet
Use Dry
Silicon Carbide stones are excellent for shaping and grinding stone such as granite, marble, limestone, travertines, and all natural stones.
Green type Hybrid Cup Wheels. That means they can be used wet or dry.
variety of grits for grinding, shaping, removing scratches out of stone, truing up vertical edges, and even polishing stone with the higher grits.
5/8-11 threaded arbor to mount on angle grinders or radial arm machines
Please NOTE: With ALL SILICON CARBIDE STONES: Using cup wheels for the incorrect application may cause explosion of the cup wheel and result in serious permanent bodily injury. It is critical to continually inspect and handle cup wheels properly to prevent any damage prior to use. Use the correct cup wheel for the correct application.
All 4 x 2 and 5 x 2 grinding stones are manufactured for face grinding only.